the exciting Bisket Jatra Festival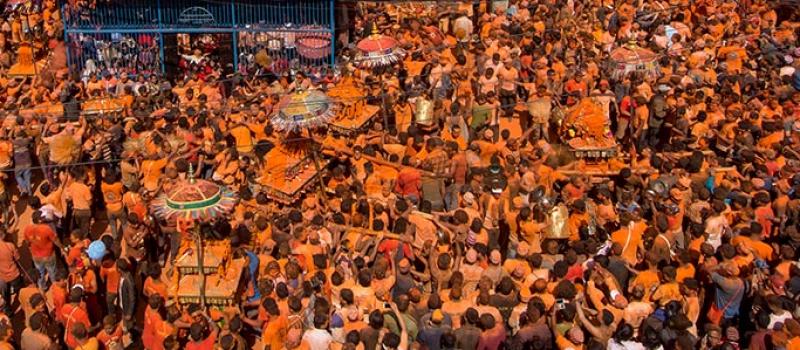 The ancient city of Madhyapur Thimi with rich cultural and traditional values is located eight kilometers east of Kathmandu. The majority of the inhabitants are farmers who had been meeting the vegetable demand of Kathmandu Valley for a long time. The city is famous for its traditional architecture, pottery, ceramics, and paper masks.
About Bisket Jatra
Madhyapur Thimi is well known for the festivals that are celebrated throughout the year. Biska Jatra is famous. Often called Bisket Jatra or Sindur Jatra, everyone in the city involved in its celebration.
People of Madhyapur Thimi consider this festival as an opportunity to reunite if there were any disputes in the family or among friends. Thus the festival is also called the festival of togetherness and positivity.
Unlike any other festival where the competition occurs in two different groups to show their skills, this festival is all about making friends, greeting and embracing each other, and putting vermilion powder on each other on the backdrop of traditional Newari Dhime music.
When it is celebrated?
This five-day event brings the whole of Thimi people together. The festival starts from 30th of Chaitra to 4th of Baisakh in Bikram Sambat every year but 1st and 2nd of Baisakh are special. On the evening of the 1st day of Baisakh the people gather at Siddhakali premise and circle the whole of Thimi with friends and families celebrating the festival and on the 2nd of Baishak they gather at Balkumari carrying chariot of their own deities and the procession starts from there.
Similarly, Siddhiganesh Jatra is celebrated in Nagadesh and tongue piercing ceremony is celebrated in Bode. Bode is also a small Newar city close to Thimi which is famous for its tongue piercing festival. A person holding an iron needle of about one foot long in his pierced tongue marches to different parts of the city carrying a Chirag (torch) on his shoulder. A team of traditional music players, local people, and visitors march along with him.