Maghe Sankranti
Jan 15, 2024
All over Nepal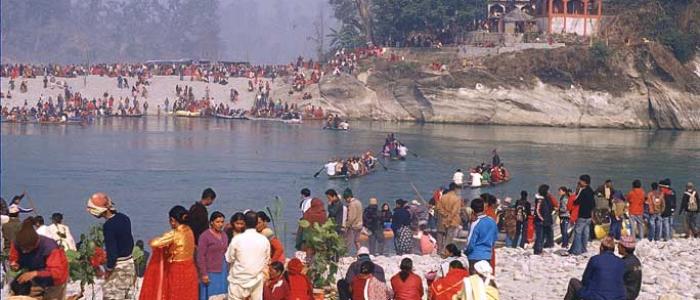 Maghe Sankranti is celebrated on the first day of Magh (around mid-January). Nepali people celebrate it as the beginning of the auspicious month of Magh.
The festival is a harbinger of longer and relatively warmer days in comparison to the cold month of Poush. On this day, the sun is believed to start moving toward the Northern Hemisphere. In that sense, Maghe Sankranti is similar to solstice festivals in other religious traditions.
Hindu devotees during Maghe Sankranti taking or preparing to take the holy bath at Devghat, Chitwan, Nepal.
Hindus celebrate this festival by taking ritual dip in holy river confluences, most notably in Devghat, Chitwan. Families get together during the day and eat meals together. Sesame seed laddus, molasses, ghee, sweet potatoes and yam are included in the menu. People worship Lord Vishnu during the month by offering him pujas and reading the sacred Bhagwad Gita, also known as The Song of the Gods.
source: www.welcomenepal.com