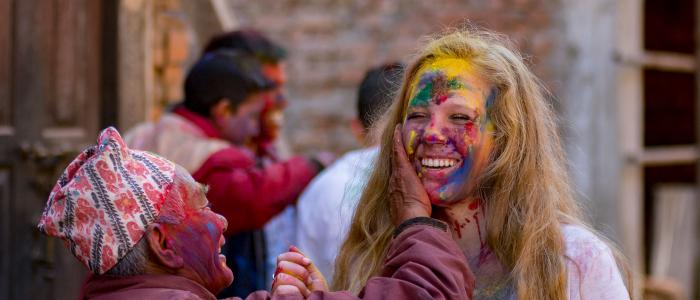 Holi is festival of color. This festival is also farewell of winter and welcoming of summer in Southern Asia. Holi is celebrated in full moon day in Phalgun . Hence, Holi is also called Fagu Purnima. Holi is called Dhuli in Sanskrit.
Holi in Nepal starts one week before the main day of Holi. There is a tradition of erecting a long bamboo stick (lingo) covered with pieces of different color cloths (Chir) in Bashantapur Durbar square, Kathmandu. In the eve of Holi the lingo is taken down and the Chir is burnt. The event is called Chir Haran or Holika Dahan. Holi then starts.
Holi is celebrated with colors, water, sweets and music. People put color on each other as a token of love. People go houses of relatives and friends in group. Put colors on each other eat sweets and move whole day. People dance and play music. People in Terai celebrate Holi the next day from Kathmandu Valley and other hilly reason of Nepal.
Actually, there was a tradition of bringing Holi from places to places, so different places could have different dates for Holi celebration in order in olden days. In some part of India, this still holds true. Now, in Nepal there are only two days celebrations.
info source: www.weallnepali.com