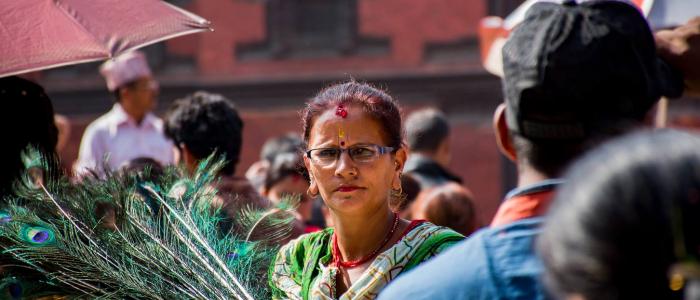 The birthday of Lord Krishna is celebrated as Krishn Ashtami. Krishna, the dark- skinned god revered as a manifestation of Lord Vishnu, who taught warrior Arjuna the value of Karma in the Bhagwad Gita, was born at midnight on the eighth day of the dark moon of August which is known as ashtami..
To celebrate the birthday of this popular Hindu god, devotees flock to Krishna temples all over Nepal; Kathmandu Valley's Krishna Mandir in Patan Durbar Square is the centere of celebrations and is thronged by a large number of devotees who gather at night to pay homage beyond mid-night. Even during the day, hordes of devotees visit the temple to pray and make offerings .
Devotees near the Krishna Temple in Patan, Kathmandu Valley, during the Krishna Ashtami festival that falls in mid August.
At night, men and women from far and wide gather in and around the 17th century stone temple singing praises of Lord Krishna waiting for the midnight hour. Euphoric prayers and incantations fill the air, and small oil lamps are lit as a mark of felicitation and devotion to the god.
Images of Lord Krishna are also carried around the city in processions accompanied by joyous crowds of followers and musical troupes. Along the lanes of old Kathmandu people display framed pictures of Krishna showing various episodes of his amazing life.
info source: www.welcomenepal.com