Biska Jatra Festival, Madhyapur Thimi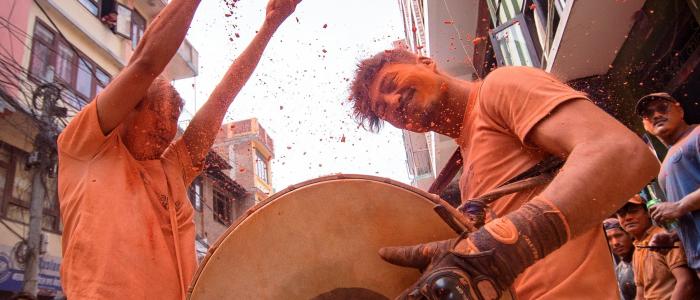 About Madhyapur Thimi
Madhyapur Thimi, an ancient city situated eight kilometers to the east of Kathmandu, is known for its abundance of cultural and traditional values. The majority of its residents are farmers who have been supplying vegetables to the Kathmandu Valley for a considerable period of time. The city is renowned for its traditional architecture, as well as its pottery, ceramics, and paper masks.
About Biska Jatra
Madhyapur Thimi is renowned for its year-round festivities, with Biska Jatra also known as Bisket Jatra being one of its most popular events. Also known as Bisket Jatra or Sindur Jatra, the festival involves the entire city, with everyone coming together to celebrate.
For the residents of Madhyapur Thimi, the festival serves as an opportunity to reconcile with family and friends in the event of any disputes, making it a festival of togetherness and positivity. Unlike other festivals that involve competitive events between two different groups, Biska Jatra focuses on building friendships, exchanging greetings, and applying vermilion powder to one another amidst traditional Newari Dhime music.
This five-day festival takes place from the 30th of Chaitra to the 4th of Baisakh in Bikram Sambat every year, with the 1st and 2nd of Baisakh being particularly special. On the first evening of Baisakh, people gather at Siddhakali premise to circle the entire city with their friends and family, while on the 2nd of Baishak, they assemble at Balkumari to carry their own deity's chariot in a procession.
Moreover, Siddhiganesh Jatra is celebrated in Nagadesh, while Bode, a small Newar city close to Thimi, is famous for its tongue piercing ceremony. During the tongue piercing festival, a person with an iron needle of about one foot in length pierced through their tongue marches to different parts of the city with a Chirag (torch) on their shoulder, accompanied by traditional music players, local people, and visitors.
Photo: ImagePasal.com